I love my freezer. We have had them available for our homes for just over 100 years and believe me when I tell you, they. are. a. game. changer. It stores ice cream perfectly for when you can't eat your Ben and Jerrys in one go, it turns water into ice so iced coffee at home can be a thing and it stores many meals in conveniently for when I really cannot be fucked to cook. Let me hear a Hell Yeah! from anyone else who is also feeling the freezer love right now!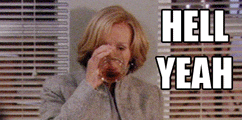 There are many misconceptions about eating healthily that permeates our culture and attitude towards "healthy eating" and eating well, some of which are based upon a smidge of reality, such as eating a varied and balanced diet costs more money than a less varied and balanced diet. Then there's the downright ludicrous like detoxing, and that you must pay for the privilege of powders and packets to do said detoxing of those treacherous toxins, and that gluten free is a healthier option for non-coeliacs, and that convenience food is always super unhealthy. Well that's bullshit.
The thing is, eating well doesn't have to mean getting overpriced foods from Whole Foods; you don't even have to step foot into the wonderful world of wankers that most Whole Foods¹ stores are, and don't even get me started on Waitrose. In fact, a lot of foods marketed as "healthy" or "good for you" that are trendy aren't much more nourishing than the normal foods we are used to that form our staple stock shops from your local Sainsbury's, Aldi and Lidl; a matcha² donut is still a donut and vegan ice cream is still full of additives, preservatives and similarly "unwhole" ingredients chastised for being in non-vegan "junk foods" and a pastry is a still a pastry even if it's dusted with the finest powder of super food extract and cost £6.50. Gregg's do a banging donut for £1 by the way.
It's perfectly fine to sometimes rely on ready meals and frozen foods, such as fish fingers, frozen veg and something of a potatoey goodness. Convenience cooking is OK and nothing to be shunned at via food snobbery; sometimes you're tired, sometimes you just want something easy and quick³. Sometimes convenience is the only option because work is annoying, winter is winning and you're experiencing a dwindling will to live that only a TV binge can fix. I'm being dramatic, we're not all depressed (or are we?) but some evenings really feel that way after a long day. That's where the freezer comes in, as if by some miracle of the modern day the freezer and the world of freezer foods, ready meals and pop in the microwave *ding* technology really comes into it's own because despite your melancholy mojo a slice of toast, or ten just won't do.
There is now a great variety of healthy ranges in the freezer and ready meal sections of the supermarket. If you're uncertain look out for the traffic light system available on most ready meals and supermarket products. The more green labels the better, some orange is dandy and a little red is fine, it doesn't connote devil food after all! Personally I love fish fingers and sweet potato oven chips for dinner.
N.B.
1. Although admittedly, Whole Foods is the Hamleys of supermarkets and I do love it!
2. I'm so glad the matcha trend has fizzled out 🤮🤮🤮
3. I'm talking about food, not a shag.